THIS WEBSITE IS ABOUT 'MIRROR ART' CREATED BY MARYLAND ARTIST BOB BENSON. BOB HAS BEEN WORKING WITH MIRRORS SINCE 2004 AND HAS CREATED MANY 'ARTWORKS' FROM MIRRORS. FOR BIO INFO ON BOB, CLICK HERE. BOB'S NEIGHBOR, RICK AMES, IS A SUPERB ARTIST WORKING WORKING IN ALL GENRE, PARTICULARLY IN METAL AND SCULPTURE. YOU CAN SEE BIO INFORMATION ON RICK BY CLICKING HERE. RICK AND BOB COLLABORATED ON TWO MAJOR PROJECTS FOR THE AMERICAN VISIONARY ART MUSEUM: THE TREE (S), AND THE POND UNDER ICARUS. FOR MORE INFORMATION/PICTURES CLICK ON THE NAMES BELOW. EILEEN GILLAN, A FINE BALTIMORE ARTIST, IS ALSO A MEMBER OF THE SHINY HAPPY THINGS TEAM. EILEEN ASSISTS IN WORKSHOPS AND MANY OTHER PROJECTS.
WE WELCOME YOUR COMMENTS AND SUGGESTIONS. WRITE: trebor3636@verizon.net

HERE ARE BASIC STYLES OF 'MIRROR ART'
FOR MORE PICTURES, CLICK ON THE NAMES.
SOME OF THESE ARE AVAILABLE FOR PURCHASE. IF YOU ARE INTERESTED , PLEASE WRITE TO: trebor3636@verizon.net

Flashies are simple strands of double mirrors hanging on a filament. They are weather-proof and can be hung outside where it is breezy and sunny—they will make a constant show of flashing lights in your yard. Or they can be hung in a sunny window—where they will make a shiny display for you.

THE FLATULENCE EXHIBIT
This unique exhibit is devoted to the history of the appreciation of Flatulence. It was created in 2015 and features stories, articles, facts, photographs and graphic art related to the subject. A highlight is a collection of mirror-art images of farts, and the centerpiece is The Magic Flatulence Post which has stored all of the winning contest entries in a Farting Competition. Every time a visitor pushes the button, one hears one of the winning contest entries—and there are more than 60 different onces. Visitors are invited to take pictures/videos of the Exhibit and use them as they wish. You can see a video about this exhibit on YouTube: "visionary farts".When you visit AVAM, you must experience this Exhibit!
Please check this lovely profile from the Huffington Post's Priscilla Frank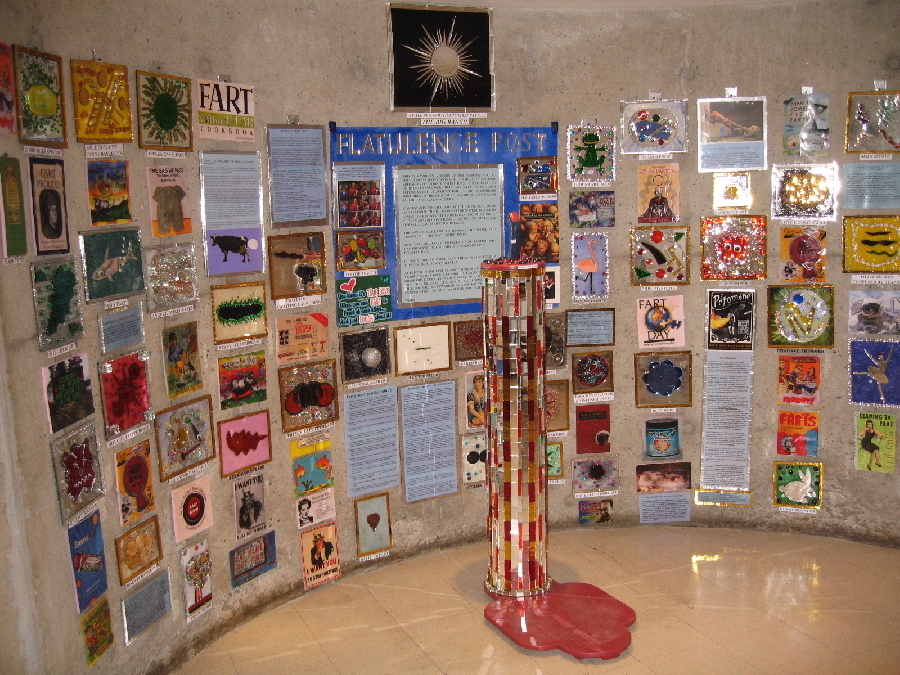 THE BEEHIVE AT THE ROYAL SONESTA HOTEL
In 2012 The International Harbor Court Hotel in the Inner Harbor commissioned Bob and Rick to create a large mirror art beehive. This would be placed in the beautiful garden plaza on the third floor roof of the Hotel, to complement a real beehive that is there . The finished work, which took three months to create, is about five feet high and five feet wide. It has a strong plastic/metal frame which is covered with thousands of pieces of colored mirror, representing bees hovering around the hive. It is a real beehive, real bees feel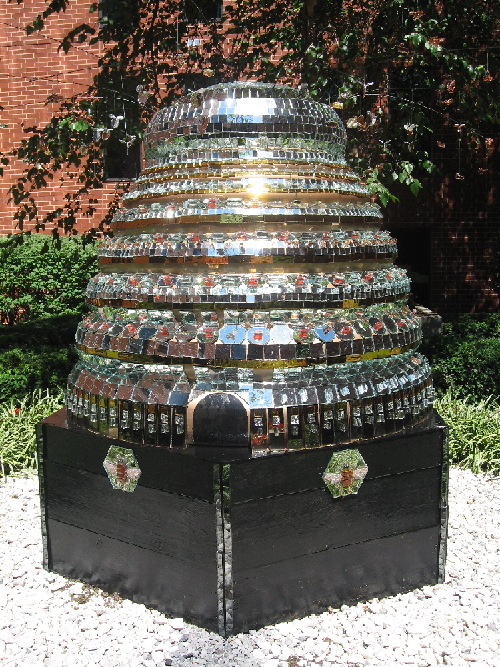 OSCILLA
Oscilla (plural of "oscillum") are round disks from 6 to 12 inches in diameter (they also can be larger). The Greeks and Romans often hung them in their courtyards and vineyards to bring them good luck and a good harvest. Often there was a picture of Bacchus on one side. None of Benson's have Bacchus, but there often are faces of a Mexican or Aztec character - or sometimes none at all - just brilliant colors in varied designs, which you can see by clicking on the name. These are meant to be outdoors, but also make a distinctive decoration inside your home.
INFINITY MIRROR PROJECTS
An exciting way to work with mirrors is to use the special "one way mirrors" along with regular mirrors. This can produce spectacular results. The "Magic Mirror Boxes" should be used inside, and can be on a table or mounted on a wall. For more, with pictures, click on "Infinity Mirror Projects" above.
FLOWER/BUD VASES
Never being able to find an appropriate vase to hold flowers or single blossoms, Bob made them out of mirrors. They are water-proof, will never tip over, and surely complement the flowers. You can design your own!
JEWELRY
This "jewelry" is made of brilliantly-colored mirrors usually in the form of a pendant.You can design your own easily.
MIRROR CREATURES
These are round or square plaques up to ten inches across and represent "creatures" — including Maryland crabs, butterflies, various fish and many odd creatures yet to be identified.
MIRROR NECKTIES (!!!)
That's right! Neckties made from mirrors, both regular neckties and bow ties. These ties make the ultimate fashion statement, particularly in the sun! The mirrors are attached to flexible vinyl templates and are not very heavy. They are worn with either a velcro strap or a leather band that can be tied in the back, adjustable to each wearer.
THE TREE (S) AT THE AMERICAN VISIONARY ART MUSEUM
In early summer of 2005, AVAM wished to have the oak tree outside their main entrance on Key Highway decorated with mirrors. Benson made all of the mirror decorations, and the trunk of the tree was decorated with mirrors as well. This major project would not have been possible without the design and installation expertise of my neighbor, Rick Ames, is a superb artist working primarily in metal and sculpture (check out his BIO). Decoration of the tree (here called TREE ONE) was very successful — see pictures of it HERE.
HOWEVER, THERE WAS A PROBLEM!! It was obvious the oak tree was severely stressed. There were many termites, along with bag caterpillars, and the tree was not long for this world. It died in the fall of 2006, was removed—and replaced with LIVE TREE TWO.
Professionally planted in November 2006, this was a smaller oak tree and seemed to be very healthy. We wanted this tree to remain healthy and were able to secure, with the help of Baltimore artist Gene Winford, a metal "girdle" about five feet high that wrapped around the entire tree trunk. Rick Ames worked his magic in augmenting the metal "girdle" by attaching eight-foot iron extensions to each of the vertical bars. All of the heavier decorations for the tree were hung from this to avoid stress on the tree itself. The "girdle" was then covered with mirrors, with an exotic, wildly-colored "vine" made from colored mirrors encircling the entire trunk. Tree Two looked quite spectacular and you can see some pictures of it HERE, the way it looked in May 2007. If you look closely, you'll see all sorts of intriguing "creatures" including a pair of flamingos, a penguin, a cat, a dog, a frog, an octopus and various other odd things, along with a wide range of glittering, shimmering flashies.
THEN, ANOTHER PROBLEM!!
Tree Two appeared to be vibrantly healthy in the spring of 2007. Then it suddenly died!! Inspection showed the soil around the tree was infested (as before) with termites, even though it had been treated for this problem. There was no way to save Tree Two.
NOW, TREE THREE (!!!!!)
This large tree "sculpture" (the highest point is about 21 ft. off the ground), rests on a "trunk" about 7 ft. high. This trunk is made of strong steel and covered with mirrors decorated with vines encircling the entire trunk, with many different colors of mirrors used. The base of TREE THREE begins at the top of the trunk, and is about 9 feet wide at the bottom. The nine layers of metal "branches" were made by Rick Ames. These branches are decorated with thousands of pieces of mirrors and it creates a dazzling display in sunlight. The Visionary Art Museum has called this "The Universal Tree of Life." For pictures of TREE THREE, click HERE. The tree is weatherproof and has become an icon on he Balimore sculpture/art scene.
THE ICARUS REFLECTING POND AT AVAM
Late in the summer of 2005, AVAM acquired a magnificent large statue of Icarus created by British artist Andrew Logan , made from mirrors and stained glass. This statue hangs in the center hallway of AVAM's main building, mounted so that it very slowly turns as it moves up and down, at the highest point being near the AVAM ceiling, lowest point about eight feet above the floor. AVAM requested the team of Benson/Ames make a "reflecting pond" of mirrors below Icarus, and the result was OCEANUS, the name given to the mirror creation which symbolically represents the ocean into which Icarus fell. The Pond is about 17 feet long and six feet across at the widest point. It is made of thousands of pieces of mirror, each individually cut and formed into various shapes. The vertical six inch high ring around the entire pond, made from strands of half-inch double quarter-inch mirrors, contains more than 6,000 pieces. Since initial installation in September 2005, the pond has been elaborated considerably. Here are some pictures of THE POND including much of the detail elements.
Now, something NEW! Icarus now has The Sun to fly to!
The Sun is 5 ft. in diameter and made from thousands of pieces of colored mirror primarily in red, gold and silver. It is sturdily constructed, made from one sheet each of regular plastic and 1/4 inch plexiglass, with stainless steel mounting hooks. It was built in May 2009, and here is a picture of it in Benson's home awaiting pickup by the AVAM crew: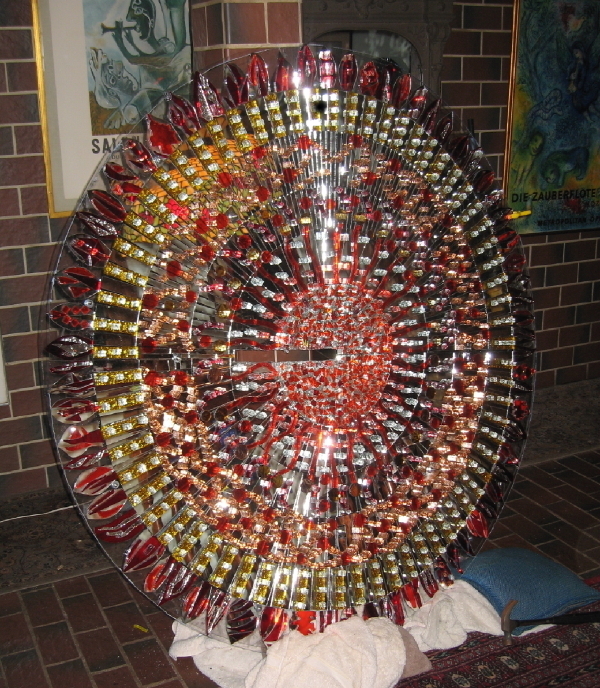 Workshops are given at the American Visionary Art Museum . For information about these, contact AVAM: 410 244-1900. Workshops are also given in Bob's studio in his home in Glen Burnie. Classes limited to 10 participants.
For information, write: trebor3636@verizon.net or call 410 761-2451.

GRAPEVINE DRIFTWOOD MIRROR 'TREES'
These are made from grapevine-treated driftwood, or from branches taken from bushes, mounted on a mirror and decorated with mirror "leaves."
THE "TREE VINE"
Originally made to be used as a "vine," now a "tree" mounted on a wall in Benson's studio.
In honor of Archbishop Desmond Tutu's visit to the American Visionary Art Museum January 21, 2006 at AVAM's Tenth Anniversary Celebration, Bob designed and made a mirrored symbolic rendition of a Bishop's Ring to present to Archbishop Tutu. The Ring was made from 1/4" inch mirror, and is about 4 1/2 inches wide.
These "cities" are made from paired pieces of quarter-inch mirrors glued together.
They are visionary "cities" that make a great show in bright light.